I'm joining my best blogger friends over at
The Primary Pack
for another fun adventure! We are celebrating Black Friday in a fun way (and a little early). There is no word yet if there will be a Black Friday sale but regardless, we are sharing a few of our most wish-listed items in our carts and our stores. We are also a
HUGE
Black Friday Giveaway, check it out below, you don't want to miss it!
There are so many things on my wishlist but here are a few that I absolutely HAVE to have:
1. December Math Bins by Kristen Smith ~ I LOVE her monthly Math Bins! They are all so comprehensive and they push students to the line. They are easy to differentiate, to both the low riders and high flyers.
2. Writing Activities and More! by Jane Kim ~ I have never actually bought any of Jane's products, but I've had my eye on her and she seems to have some excellent products! This one in particular, I love the way she's laid out the images and work on the pages and it just looks visually appealing.
3. Martin Luther King Jr. images by Messare Clips ~ I love Black History ANYTHING and these images are right on! They are drastically realistic and some of the best I've ever seen. These are a must have for any of your MLK Jr. products you're going to make!
4. Holidays Around the World-Kwanzaa ~ This product is from Tweets Resources and Bonnie Kathryn. These ladies have seemed to take a Christmas topic and make it magical for the students. And this Kwanzaa resource is no exception!
5. And last but not least, from one of my favorite clip artists, Glitter Meets Glue, I just love her Dipped in Glitter Bows she just came out with. These will dress up any product you might be making for Christmas or any holiday!
Here are a few products you gotta check out from my TpT Store
that are my most wishlisted and best sellers:
1. Hi Ho, Hi Ho, It's Off to Work We Go ~ These are one of my best sellers in my store! They are classroom Attention Grabbers that you must have for your classroom management arsenal! You really give these a try!
2. Famous Folks of Black History ~ This is my number one seller in my store! It is a product that gives you everything you need to celebrate Black History Month and more! It is packed full of posters, interactive materials, and other goodies that you just need to see for yourself.
3. Hand Signal Editable Posters ~ Do you see a trend here in my classroom management tools? This is another goodie that you just need to use in your classroom. The best thing about these posters is that they are editable to your own needs. And trust me...hand signals WORK!
4. Black History Mini-Foldable Books ~ This is a set of mini-books that feature Black History greats, perfect for quick projects and just enough information if you're pressed for time. Definitely give these books a try in your primary classroom for Black History Month!
5. Shaped to the Core ~ This is my number one math product by far! It's packed with posters and no-prep printables to teach both 2d and 3d shapes to your kiddos. Nothing but fun!
And now for some giveaway fun!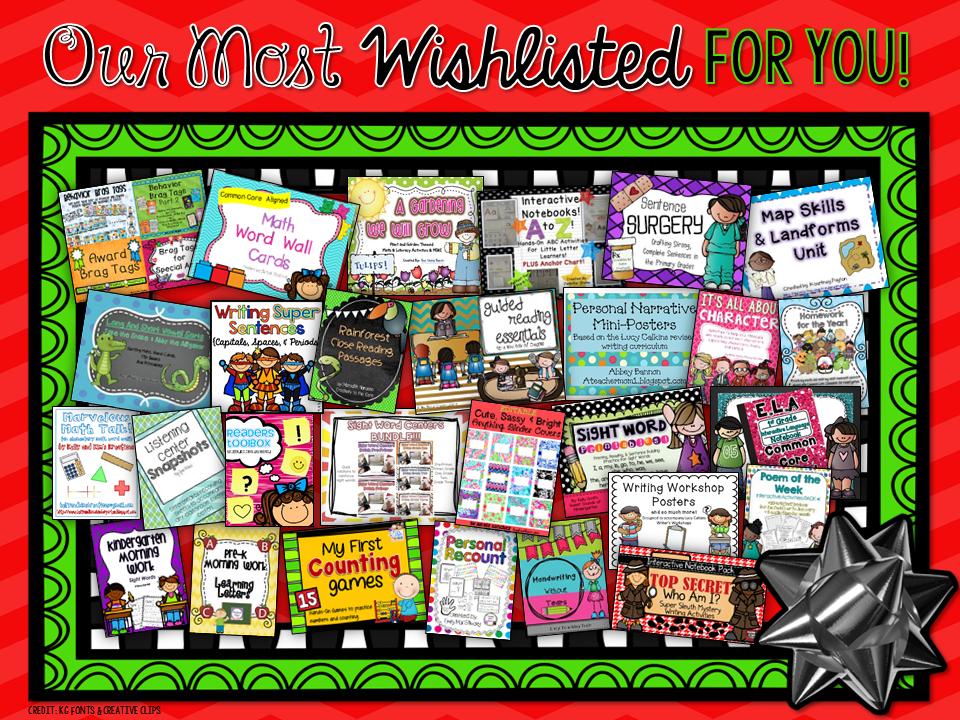 Drumroll please.... Check out this HUGE giveaway package you can win by entering below! There is a resource from almost everyone in The Primary Pack, perfect for all primary grades!! Good luck, friends and happy shopping!



a Rafflecopter giveaway






Now It's Your Turn To Join The Fun!

Just a few rules to follow and your on your way:
1. Download the images above!
2. Add your favorite sellers products in your TpT cart to the "My Black Friday Wishlist"
3. Add your own products to the "For Your Black Friday Wishlist"
4. Link up below to share your Black Friday Wishlists!
5. Don't forget to enter our fabulous giveaway above AND visit others linked up below!